Guns N Roses - 2007-06-23 Acer Arena, Sydney (JimBobTTD)
Guns N Roses - 2007-06-23 Acer Arena, Sydney (JimBobTTD)
Source: AUD Handheld Sony Cybershot Camera > Stand Alone Philips DVDR 3365 recorder > DVD > TMPGEnc DVD Author 3 > DVD5
System: PAL
Aspect Ratio: 4:3
Bonus Source: TV > SA > TMPGEnc DVD Author 3. PAL. 16:9
Time: 1 hr 24 mins (gig) + 12 mins (bonus)
Menu Audio: M[DAT] > CEP > FLAC > Trader's Little Helper > WAV
Songs played are "Better" and "The Blues". Taken from "Excessive Moderation"
2006-05-15 Hammerstein Ballroom New York, New York, USA

Set List:
30 seconds of Sebastian Bach
Intro & Welcome to the Jungle
It's So Easy
Mr. Brownstone
Live And Let Die
Robin Guitar Solo (cut)
Sweet Child O' Mine
Knocking On Heaven's Door (cut)
Better
Dizzy Solo (cut)
The Blues
You Could Be Mine (cut)
Band Introductions
Out Ta Get Me
November Rain
IRS (cut)
Ron Guitar Solo (cut)
My Michelle (with Sebastian Bach)
Patience
Nightrain
Nice Boys (with Angry Anderson)
Madagascar
Paradise City

Bonus: Guns N Roses at Donington, 11 June 2006 (Pro shot)
Interview with Sebastian Bach
My Michelle (with Bach)
Paradise City (with Izzy)
This is the first of two nights in Sydney.
This was filmed with a handheld camcorder to the right of the stage. The filmer says that security was tight, and I read on the internet that people were being kicked out for taking photos, so we are lucky to get this recording!
The sound on this recording is only from one speaker. It is, however, pretty clear. Some of the tracks skip and the picture goes a bit funny during "Patience". The picture quality is like all digital pics - perfect - although there is no zooming, and thus no real close-ups of the action. But hey...this is the only recording of this gig out there!
GNR in Sydney filmed by Mr Kennedy - thanks for filming, and thanks for giving me the recording!
Cover here
Screenshots:
Menus: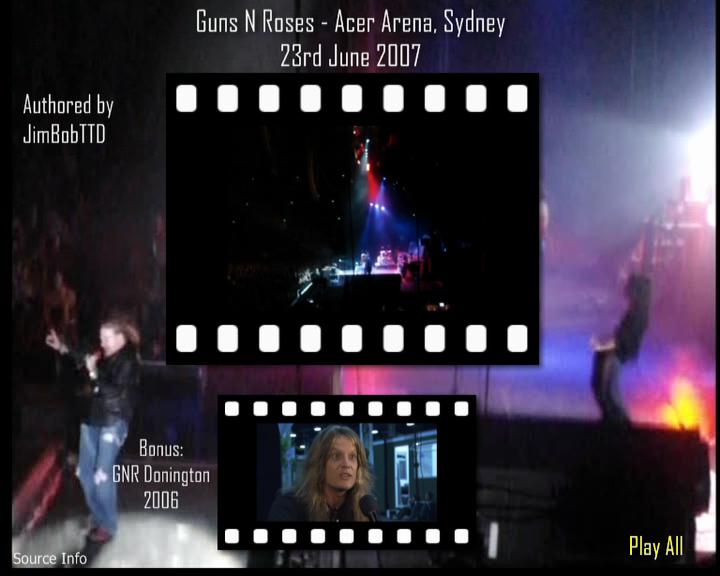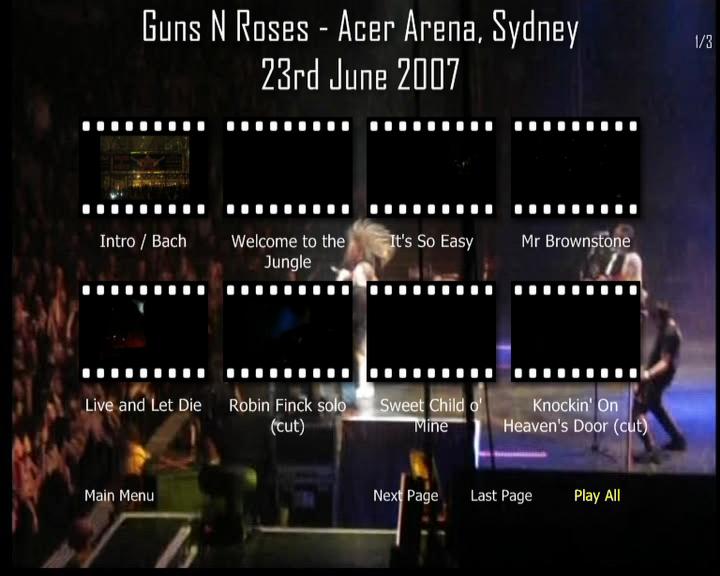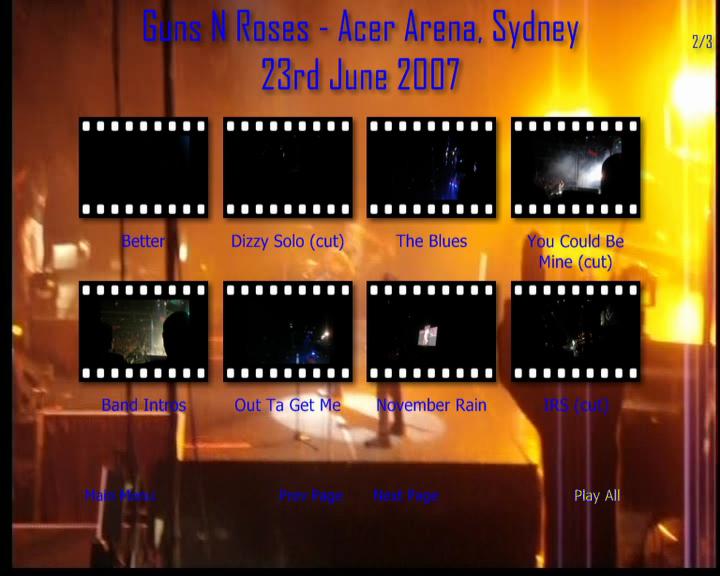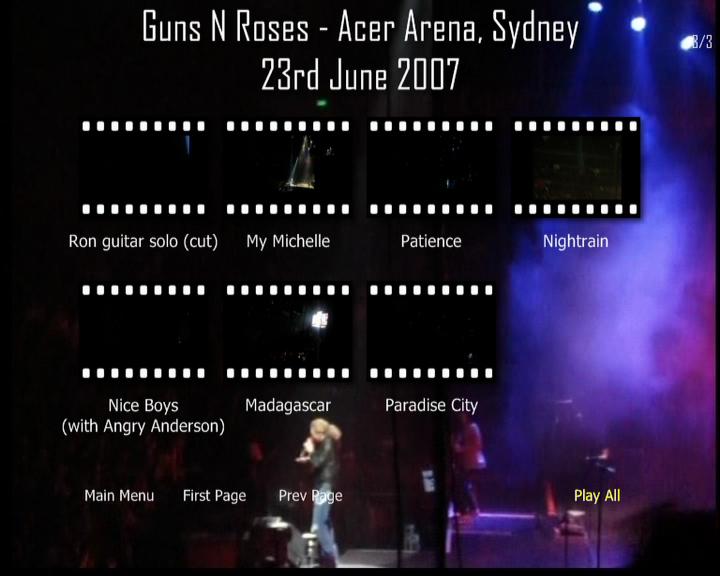 Gig: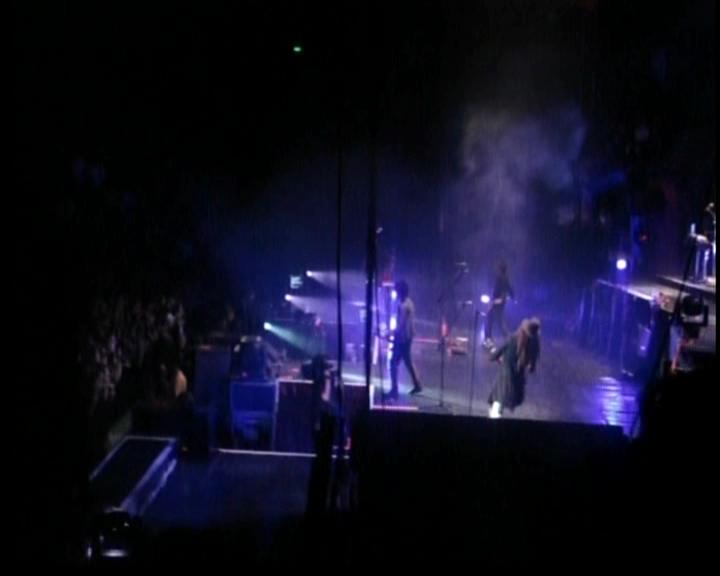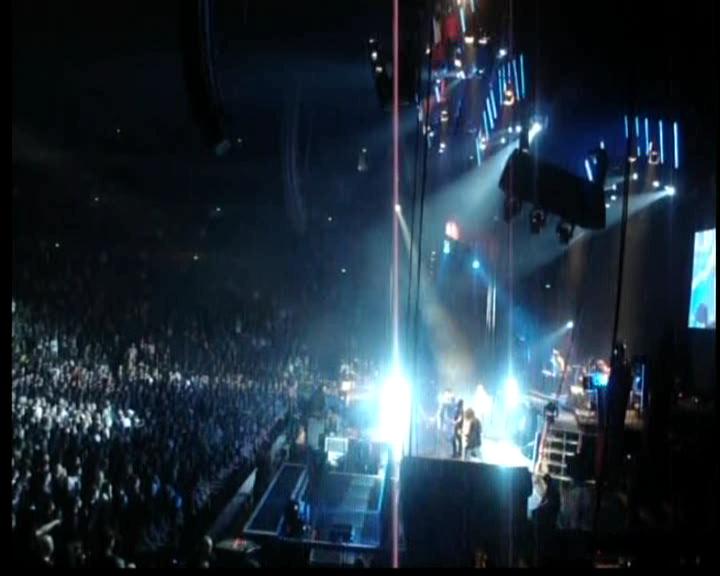 Bonus pro shot screenshot: