Velvet Revolver - 2008-03-13 Ambassador Theatre, Dublin (JimBobTTD)
Velvet Revolver - 2008-03-13 Ambassador Theatre, Dublin (JimBobTTD)
Source: AUD Handheld Sony Cybershot Camera > Stand Alone Philips DVDR 3365 recorder > DVD > TMPGEnc DVD Author 3 > DVD5
System: PAL
Aspect Ratio: 4:3
Time: 1 hr 34 mins [1 hr 9 mins (gig), 3 mins 29 sec (picture show), 21 mins 40 sec (Amsterdam)]
Picture Show:
Source: from same SA as the main gig
Audio: Source: TV WDR (May 2, 2008) -> DVB-S -> MPEG 2.0 (192kbps) -> WAV -> dED ->
FLAC fontend 1.7.1 [level 8 with verifying] > Trader's Little Helper (from FLAC to .wav) > TMPGEnc
Song playing: "Get Out The Door" from VR Cologne, 2008-03-29
VR in Amsterdam:
Source: AUD Handheld mobile phone > mpg clips > TMPGEnc DVD Author 3
Menu Audio:
Main Menus: As picture show audio. Song playing is "Just Sixteen"
Amsterdam Menu: Linage: Edirol R09 - Sony mic ECM-DS70P - wav16-bit 44.1khz. - Seperation of songs
with Audacity - flac level 6 with TLH - decoded back to wav with TLH - TMPGEnc.
Song playing: "Slither" from VR Amsterdam, 2008-04-01
Set List:
Let It Roll (cut)
She Mine (cuts in)
Sucker Train Blues
Do It for the Kids
Superhuman
Big Machine (cuts in)
American Man (cut)
Vasoline (cuts in & cut)
The Last Fight
Interstate Love Song (cut)
Patience
She Builds Quick Machines
Get Out The Door (cuts in & cut)
Fall to Pieces
It's So Easy
Slash Solo
Set Me Free
Mr Brownstone
Sex Type Thing
Slither (cut)

BONUS:
Picture Show:
Photos from the same concert

VR's Last Show with Scott
Heineken Music Hall, Amsterdam, 2008-04-01
Tracks:
American Man (cuts in)
Vasoline
It's So Easy (cuts in)
Guitar Solo
Set Me Free
Mr Brownstone

This is the second of two nights at the Ambassador Theatre in Dublin. During "Sex Type Thing" the band plays a few bars of Thin Lizzy's "Cowboy Song".
This is a rather special recording. It has been filmed with a handheld camcorder from the floor of the venue...and the venue is jumping! As such, there are arms, heads, legs (!) in the way, the mic is knocked rather often, and most tracks have a few skips in here and there. As the filmer was quite close to the stage, where all the action was, this recording is, by and large, a perfect replica of the chaos of being at the concert...except you can see the stage! The fans really give a good performance, and this is picked up by the band who give as good as they get, considering the problems they were having at the time. A brilliant show.
Oh, and check out the people "singing" along to Patience. Ha!
VR in Dublin filmed by Mr Kennedy - thanks for filming, and thanks for giving me the recording!
The photos used in the picture show as well as for the background pictures in the menu are all from Mr Kennedy.
VR in Amsterdam was recorded by Daniels on his mobile phone, so the picture and sound quality is poor. Thanks for giving permission to include the clips here. It was a bittersweet night, wasn't it? Still, I'm glad I was there! And it seems that we were quite close to each other, judging by the filming.
I saw a girl sitting in the middle of the seating area with a camcorder. Hopefully this recording will come out!
Picture used in menu for Amsterdam clips taken by me on my phone before I moved to a better position. Thanks to me for letting myself use it.
Screenshots:
Menus: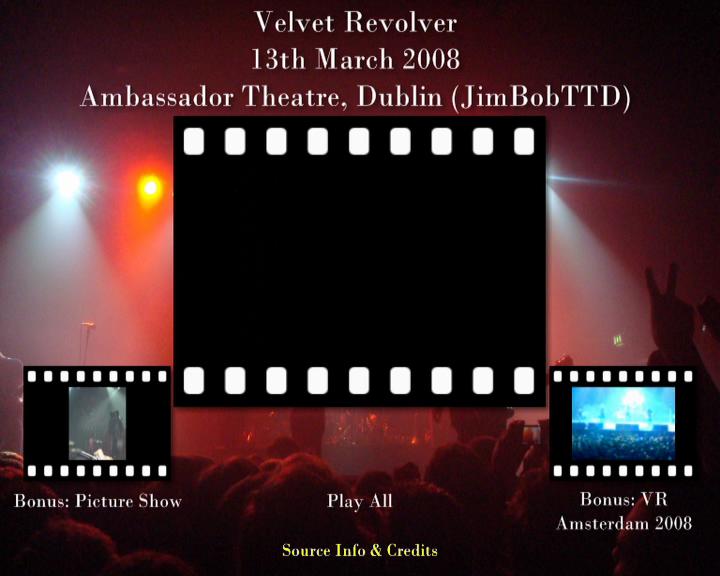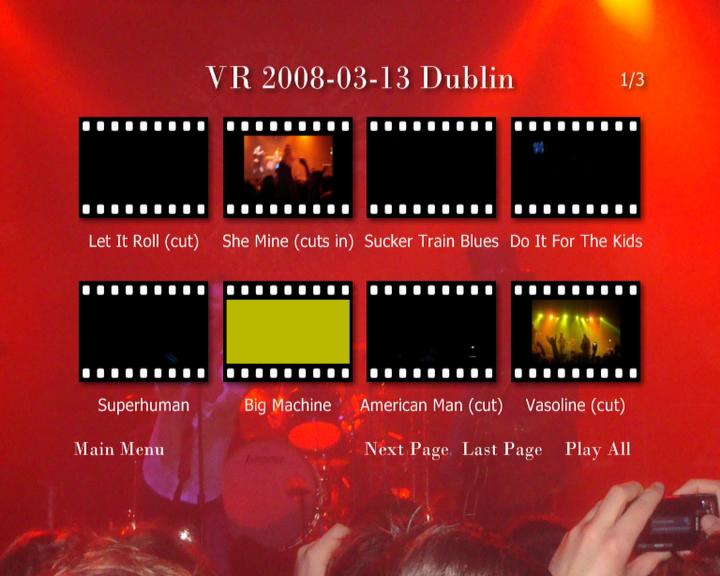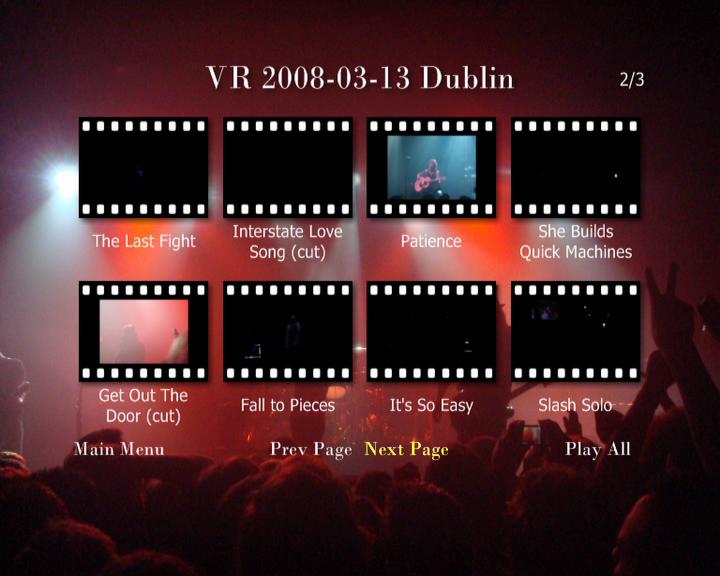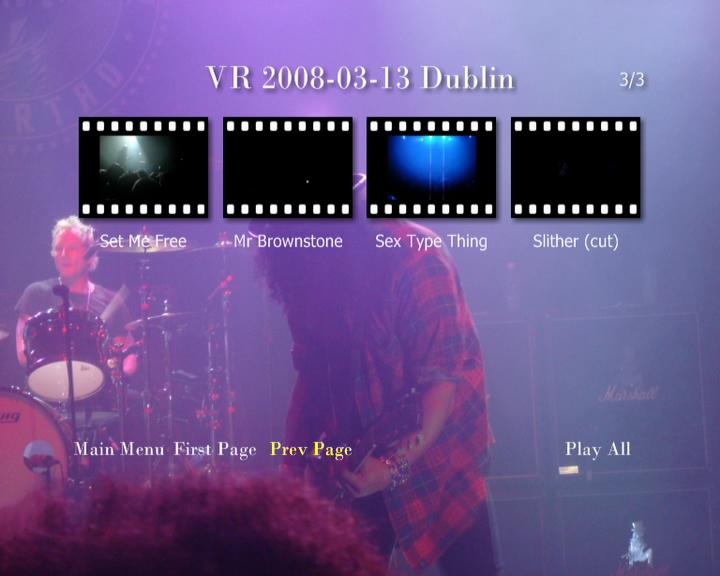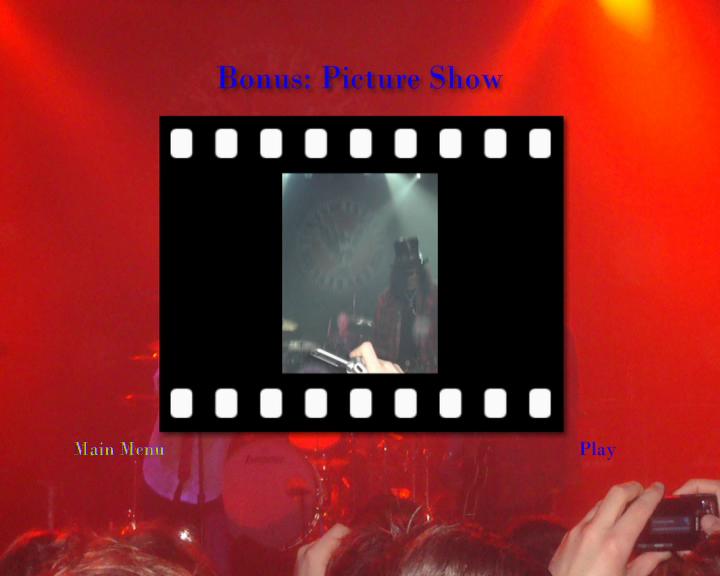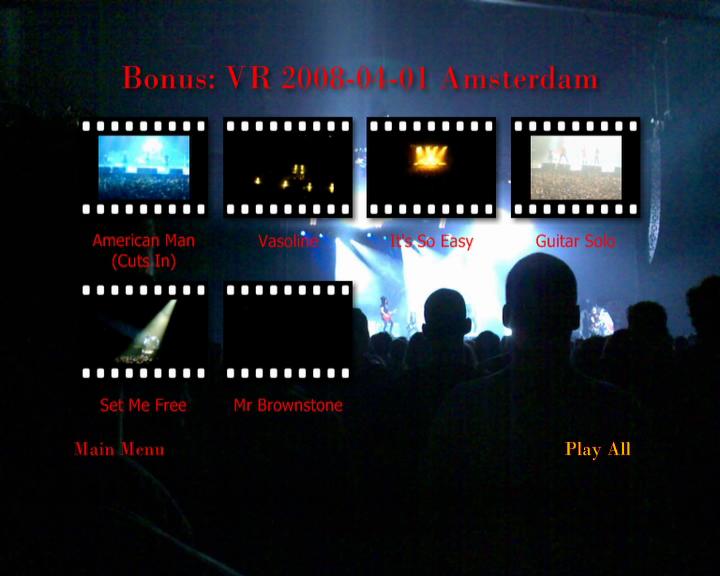 Gig: